Gourmet Maple Waffles
---
Crepes / Pancakes / Recipes with Maple Sugar / Recipes with Maple Syrup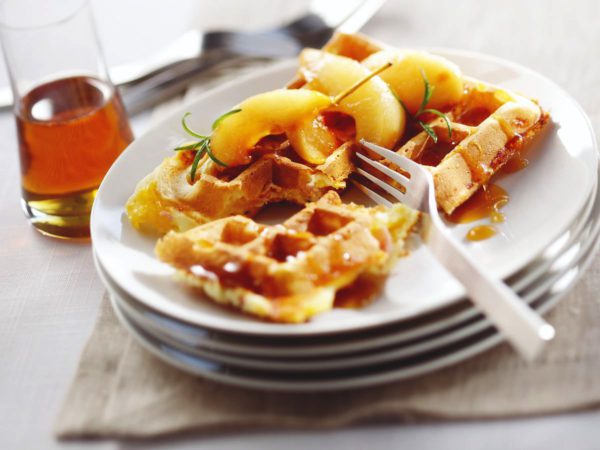 Ingredients
The Waffles
8.8 oz

all-purpose flour

2 tablespoons

maple sugar, grated

2 tablespoons

baking powder

1 teaspoon

fine salt

2 tablespoons

melted butter

1 1/2 cup

buttermilk

2

eggs

3

egg whites, whisked into peaks

2 oz

strong cheddar (l'Île aux Grues), grated

2 oz

prosciutto, julienned
The Topping
2

pears, peeled, cored, quartered

2 tablespoons

butter

1

sprig of rosemary

3/4 cup

maple syrup (preferably golden, for its delicate taste)
Method
In a bowl, combine flour, maple sugar, baking powder, and salt. Set aside.
In another receptacle, combine the melted butter, buttermilk, and eggs. Slowly add this second mixture to the first, then incorporate the peaked whites, grated cheddar, and julienned prosciutto. Bake in waffle iron.
Sauté the pears in the butter and add the rosemary.
Finish cooking with the maple syrup.
Avoid over-cooking to keep some crunch in the pears.
Pour topping over waffles.
Chef's Suggestions:
Avoid overworking the mixture to keep the egg whites peaked. Waffles are best fresh but, once made, they may be successfully frozen.
The Quebec Maple Syrup Producers are not in any way responsible for the identification or presence of allergens in recipes or for the classification of any recipe as vegetarian or vegan.
Hundreds of Delicious Recipes
Maple is a special addition to any recipe, from appetizer to dessert. Find one that's perfect for you or your occasion!