Crispy Maple Twists
---
Fancy Pastries / Pastries / Recipes with Maple Sugar / Recipes with Maple Syrup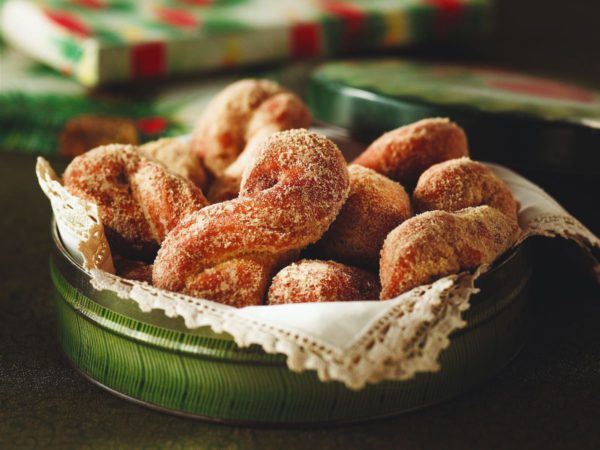 Ingredients
4 cups

all-purpose flour

1 teaspoon

baking powder

1

Pinch of fine salt

1

Pinch of nutmeg

3

large eggs, separated

1 cup

maple sugar

1/4 cup

butter, softened

1/2 teaspoon

baking soda

2 teaspoons

white wine vinegar
Zest of 1/2 lemon

1 cup

milk

4 cups

canola oil
Maple sugar for sprinkling or warm maple syrup for dipping (preferably amber syrup for its rich flavour)
Method
In a large bowl, sift together flour, baking powder, salt and nutmeg. Set aside.
In the bowl of a stand mixer, beat together the egg yolks, maple sugar and butter until smooth.
In a small bowl, combine the baking soda and the vinegar and fold into the ingredients in the mixer. Add the lemon zest and milk and mix to combine. Set aside.
In another bowl, beat the egg whites to soft peaks and gently fold them into the ingredients in the mixer. Next, gently fold in the dry ingredients and shape dough into a ball. Heat canola oil.
On a floured surface, roll out the dough to a thickness of 6 mm (1/4 in). Use a cookie cutter to cut out pieces of dough 10 cm (4 in) in diameter, and make a 4 cm (1.5 in) hole in each.
Twist the pieces of dough and fry them in the hot oil, 5 at a time, for about 1 minute per side. Remove croquignoles from the oil and drain on paper towels.
To serve, sprinkle with maple sugar (while they are still warm) or dip in warm maple syrup.
The Quebec Maple Syrup Producers are not in any way responsible for the identification or presence of allergens in recipes or for the classification of any recipe as vegetarian or vegan.
Hundreds of Delicious Recipes
Maple is a special addition to any recipe, from appetizer to dessert. Find one that's perfect for you or your occasion!