Maple Forest Cake
---
Cakes / Recipes with Maple Spirits / Recipes with Maple Sugar / Recipes with Maple Syrup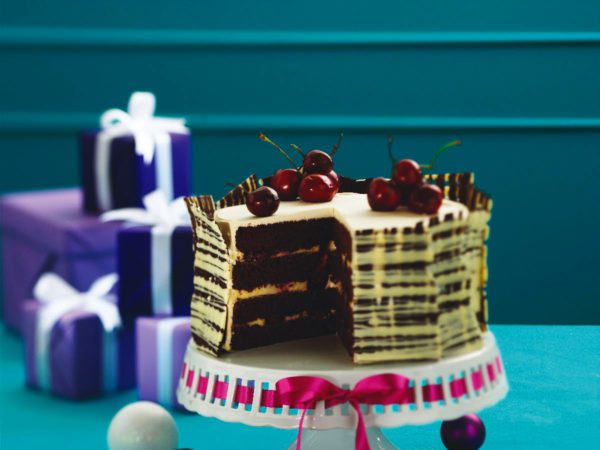 Ingredients
Cake
1/ 1/2 cups

all-purpose flour

2/3 cup

cocoa powder

1 teaspoon

baking powder

1 1/2 teaspoon

baking soda

1

pinch of salt

3/4 cup

unsalted butter, softened

1 1/2 cup

maple sugar

7

eggs, separated, at room temperature

1 teaspoon

vanilla extract

1 cup

milk
Buttercream
1 cup

maple syrup (preferably very dark syrup for its strong flavour)

1 tablespoon

plain gelatin

2 tablespoons

cold water

4

egg yolks, at room temperature

1 teaspoon

vanilla extract

1

pinch of salt

1/2 cup

unsalted butter, softened

1 1/2 cup

heavy cream (35%)
Dark and White Chocolate Bark
8 oz

dark chocolate (70% cacao), broken into pieces

4 oz

white chocolate, broken into pieces
Garnishes
1/2 cup

Coureur des Bois maple cream

2

cans of 398 ml (14 oz) of pitted Bing cherries, strained
Fresh cherries
Method
Cake
Preheat the oven to 180 °C (350 °F).
Butter two 20-cm (8-in) springform pans and line with parchment paper.
Sift together the first 5 ingredients in a large bowl. Set aside.
In the bowl of an electric mixer, cream together the butter and 190 ml (3/4 cup) maple sugar.
Add the egg yolks one at a time, then the vanilla, then half the dry ingredients, the milk, and the rest of the dry ingredients. Set aside the chocolate mixture.
In another bowl, beat the egg whites to soft peaks and gradually add the rest of the maple sugar. Fold the egg whites into the chocolate mixture then pour into the buttered pans. Bake for 45 minutes.
Let cool for 10 minutes before removing from the pans. Set aside the 2 cakes.
Buttercream
In a heavy-bottomed saucepan bring the maple syrup to a boil. Dissolve the gelatine in the water and stir into the syrup. Keep warm.
In the bowl of an electric mixer, beat the egg yolks then add the hot maple syrup in a thin stream and beat for 5 more minutes.
Add the vanilla and salt, then beat in the butter a little bit at a time. Beat for 1 more minute. Set the buttercream aside.
In a bowl, whip the cream and fold into the buttercream with a spatula. If the mixture seems too loose, refrigerate it for several minutes then whip again. Set aside.
Dark and White Chocolate Bark
Melt the dark chocolate in a double boiler.
Form a cone with parchment paper, pour in the melted dark chocolate, snip off the tip and draw dark lines on a sheet of parchment, using a back-and-forth movement.
Repeat with the white chocolate, drawing white lines perpendicular to the dark chocolate lines.
Let the chocolate set then gently break it into large pieces of bark for the sides of the cake. Make sure they are taller than the cake by 2.5 to 4 cm (1 to 1 1/2 in).
Assembly
Halve the cakes horizontally and brush each half with maple cream.
Spread a thin layer of buttercream on the first half, dot with some of the canned cherries and repeat with the other three layers (but do not put cherries on the fourth layer).
After the cake is assembled, ice the cake with the remaining buttercream, then press the chocolate bark pieces against the sides of the cake all the way around. Garnish with fresh cherries.
The Quebec Maple Syrup Producers are not in any way responsible for the identification or presence of allergens in recipes or for the classification of any recipe as vegetarian or vegan.
Hundreds of Delicious Recipes
Maple is a special addition to any recipe, from appetizer to dessert. Find one that's perfect for you or your occasion!