Maple Pork Tenderloin and Mushroom Risotto
---
Pork / Rice and Cereals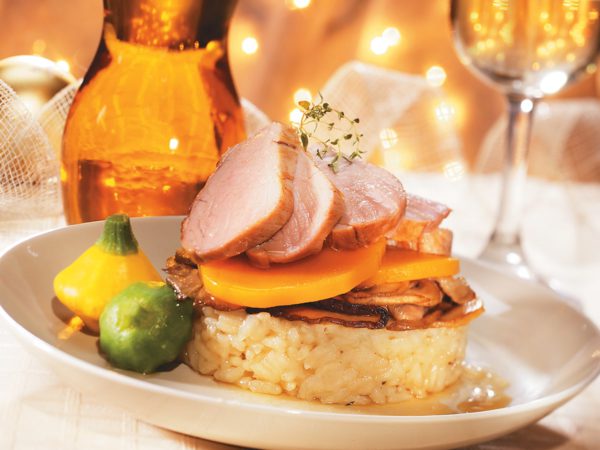 Ingredients
1 1/3 lb

of pork tenderloin
Maple syrup marinade
1/2 cup

oil

1/4 cup

maple syrup

1/4 cup

dry white wine

1

shallot, minced

1 tablespoon

tablespoon of Dijon mustard

1/2 teaspoon

dry thyme
Risotto with maple syrup
3 tablespoons

each of olive oil and butter

8 oz

sliced mushrooms of your choice

1

onion and 1 clove of garlic, minced

1 cup

Arborio risotto

1 1/2 cup

chicken bouillon

3/4 cup

dry white wine

1/4 cup

maple syrup liqueur

1

bay leaf

1

sprig of fresh thyme

1/4 cup

fresh Parmesan cheese, grated

3 tablespoons

maple butter

2 tablespoons

parsley, minced
Salt and freshly ground pepper, to taste
Method
Mix all of the marinade ingredients. Season with pepper. Marinade the tenderloin while preparing the risotto, or longer.
In a large casserole, heat 15 ml (1 tablespoon) of oil and melt 15 ml (1 tablespoon) of butter. Sauté the mushrooms and set aside.
In the same casserole, heat the remaining oil and butter, and sauté the onion and garlic over medium heat.
Add the rice, stir well and cook until it becomes translucent, for about 2 to 3 minutes.
Add the chicken bouillon, wine, bay leaf, thyme, salt and pepper. Bring to a boil. Cook, covered, over medium heat, for between 16 to 18, stirring frequently.
Remove from heat. Remove the bay leaf and thyme spring.
Add the Parmesan, maple butter and parsley. Mix well. Season. Add mushrooms.
Preheat the oven to 190 °C (375 °F).
Meanwhile, remove the tenderloin from the marinade, dry, and sear over high heat in an ovenproof frying pan. Gently brown on both sides. Season.
Place pan in the oven and continue cooking for about 12 until the meat becomes pinkish in colour (pork is the tastiest and most tender when cooked to medium).
To serve, slice and arrange on top of the risotto accompanied by a side of colourful vegetables.
The Quebec Maple Syrup Producers are not in any way responsible for the identification or presence of allergens in recipes or for the classification of any recipe as vegetarian or vegan.
Add some Maple Taffy to your recipes
Maple is a special addition to any recipe, from appetizer to dessert. Find one that's perfect for you or your occasion!