Green Tomato Millefeuille with Creamy Goat Cheese and Maple Vinaigrette
---
Recipes with Maple Syrup / Recipes with Maple Vinegar / Starters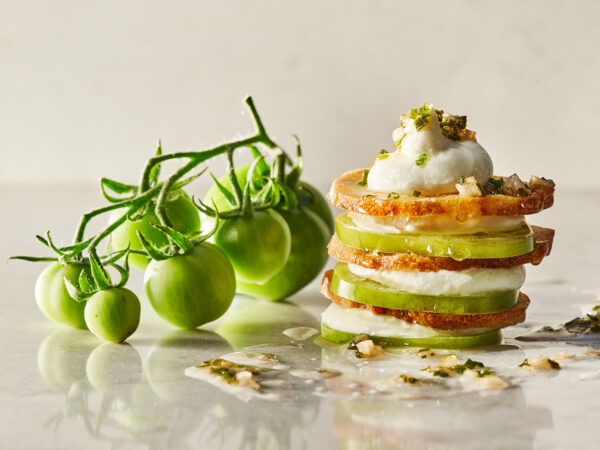 Ingredients
CREAMY GOAT CHEESE
1 cup

35% whipping cream

9 oz

fresh goat cheese (your choice)
Salt
MAPLE VINAIGRETTE
1

French shallot, snipped finely

1

bunch chives, snipped finely

1 tbsp plus 1 tsp

maple syrup (preferably golden syrup for its delicate flavour)

1 tbsp

maple vinegar (or cider vinegar)

3 tbsp

vegetable oil
GREEN TOMATO SLICES
4

green tomatoes or 4 unripe tomatoes
BAGUETTE CHIPS
1

baguette
Vegetable oil
Salt
Method
CREAMY GOAT CHEESE
In a saucepan, bring 125 ml (1/2 cup) of the 35% cream to a boil.
Pour the hot cream into the bowl of a blender and add the goat cheese. Blend until smooth. Cool in the refrigerator.
In a bowl, whip the remaining 35% cream and gently fold it into the cooled cheese-cream mixture. Salt to taste.
Place mixture into a pastry bag and refrigerate until needed.
MAPLE VINAIGRETTE
Combine all vinaigrette ingredients in a bowl, adding the vegetable oil last. Set aside.
GREEN TOMATO SLICES
Use a very sharp knife or mandoline to cut the tomatoes into slices just a few millimetres thick. Set aside.
BAGUETTE CHIPS*
Preheat oven to 120° C (250° F).
Slice the baguette as thinly as possible, making sure all slices are unbroken. A mandoline gives the best results.
Place bread slices on a baking sheet, and lightly oil and salt. Bake about 10 minutes, until crispy.
Assembly
Start with a slice of green tomato on the plate, add a little vinaigrette, then a dot of creamy goat cheese, and then a baguette chip. Repeat these steps two more times. Top millefeuille with a final dot of creamy goat cheese and drizzle some vinaigrette on the plate. Salt, if needed.
FREEZING TIME: 1 hour
* The baguette will slice more easily if you put it in the freezer for an hour beforehand. This will firm it up but be careful not to freeze it!
The Quebec Maple Syrup Producers are not in any way responsible for the identification or presence of allergens in recipes or for the classification of any recipe as vegetarian or vegan.
Hundreds of Delicious Recipes
Maple is a special addition to any recipe, from appetizer to dessert. Find one that's perfect for you or your occasion!