Buckwheat Shortbread with Maple Sauce
---
Cookies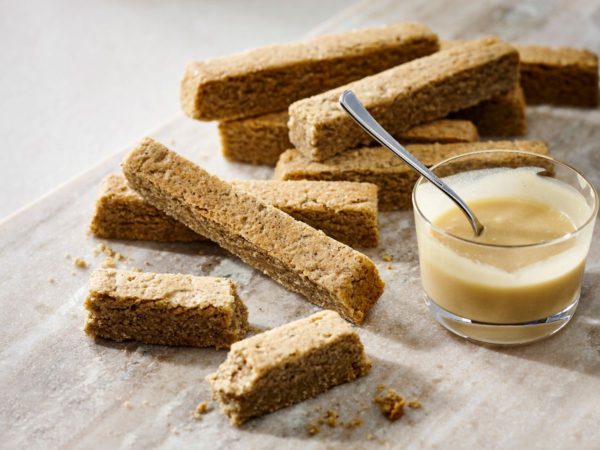 Ingredients
Shortbread
8

egg yolks

1 2/3 cup

maple sugar

1 2/3 cup

flour

2 1/2 cups

buckwheat flour

1 tablespoon

baking powder

3/4 teaspoon

salt

1 1/3 cup

softened butter (room temperature)
Maple Sauce
2/3 cup

maple syrup

3/4 cup

35% cream

3/4 cup

butter

1 cup

maple sugar

7

egg yolks

2

eggs

1 teaspoon

salt
Method
Shortbread
In a bowl, use a whisk to beat the egg yolks with the maple sugar until the mixture is creamy and pale yellow. Add the flours, baking powder, and salt, mixing with a wooden spoon. Incorporate the butter.
Lightly knead the dough until it's nicely smooth, wrap in plastic, and refrigerate for at least 30 minutes.
Preheat oven to 180° C (350° F).
Lay the dough in a 20 cm (8 in.) long by 1 cm (3/8 in.) high rectangular springform pan. Bake for about 30 minutes or until the shortbread is browned.
Once out of oven, cut into 10 cm by 1 cm (4 in. by 3/8 in.) rectangles.
Maple Sauce
In a medium saucepan, heat the syrup, cream, butter, and maple sugar over a medium stove.
In a mixing bowl, beat the eggs and egg yolks, then add salt. Add to the syrup mixture, whisking vigorously to incorporate. Set to a boil.
Pour sauce into a strainer lined with cheesecloth and positioned over a bowl. Lay plastic wrap directly on the sauce and refrigerate until ready to use.
The Quebec Maple Syrup Producers are not in any way responsible for the identification or presence of allergens in recipes or for the classification of any recipe as vegetarian or vegan.
Hundreds of Delicious Recipes
Maple is a special addition to any recipe, from appetizer to dessert. Find one that's perfect for you or your occasion!