Maple Christmas Wreath Cake
---
Desserts / Fancy Pastries / Pastries / Recipes with Maple Butter / Recipes with Maple Syrup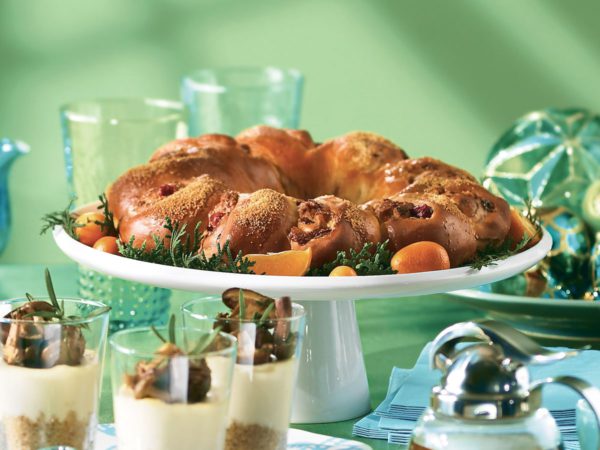 Ingredients
1 teaspoon

maple sugar

1

packet of dried yeast

1/2 cup

warm water

1/2 cup

milk

1/4 cup

softened butter

1/4 cup

maple sugar

1

pinch of salt

3 cups

all-purpose flour

1

egg, beaten
Garnish
1/4 cup

maple butter

1/4 cup

almond powder

2

packages of cream cheese

1/2 cup

dried cranberries
Melted butter
Maple sugar flakes
Method
In a bowl, dissolve maple sugar and yeast in warm water, and let sit for 10 minutes.
In a casserole, heat milk, butter, maple sugar and salt until fully dissolved. Pour into a large bowl.
Add half of the flour and the yeast mixture, and beat well using a whisk. Add beaten egg and the remaining flour and knead well.
Place dough on a well-floured surface, cover with a clean cloth and let rise for 1 1/2 hours.
Meanwhile, mix maple butter and almond powder until you obtain a smooth consistency. Set the almond mixture aside.
Then take the dough that has risen and roll it out into a rectangle. Spread it with cream cheese, then scatter on it pieces of the almond mixture and dried cranberries.
Roll up length-wise to make a thick roll, then pinch the ends together to form a ring. Seal the edges.
Place the ring on a cookie sheet laid with wax paper.
Using scissors, make deep cuts at 5 cm (2 in) intervals, but do not cut slices apart. Instead, twist each slice and lay it over the previous one.
Cover with a clean cloth and let rest for 45 minutes.
Preheat oven to 190 °C (375 °F). Baste the ring loaf with melted butter and sprinkle with maple sugar flakes.
Bake for 35 minutes.
The Quebec Maple Syrup Producers are not in any way responsible for the identification or presence of allergens in recipes or for the classification of any recipe as vegetarian or vegan.
Hundreds of Delicious Recipes
Maple is a special addition to any recipe, from appetizer to dessert. Find one that's perfect for you or your occasion!